These last days, I didn't post anything and only comment on your posts because I have been a little down. We have been sick for almost 3 weeks, of cold, of stomach and now again we have a cold. Grrr I hate to be sick.
But I managed to do my assingnments and finally I'm up to date in my writing class. Although I'm still fighting with the query letter! I outlined the first changes I'm going to do to Glowing Shadow and finally I can continue translating.
This weekend was my son Carlos birthday. I don't know when the time passed away but now he is six and I wonder were is my first little baby! Anyway we spend a great day , we brought Mc Donald's ( his favorite food) the grandpas and his godmother came to have lunch and we all played with him kinect and wii! He was very happy!
Here is a photo of me with my two babies, as you can se we had chocolate cake Yommi! Please don't see the black circles under my eyes (I used corrector if not believe I'm a raccoon)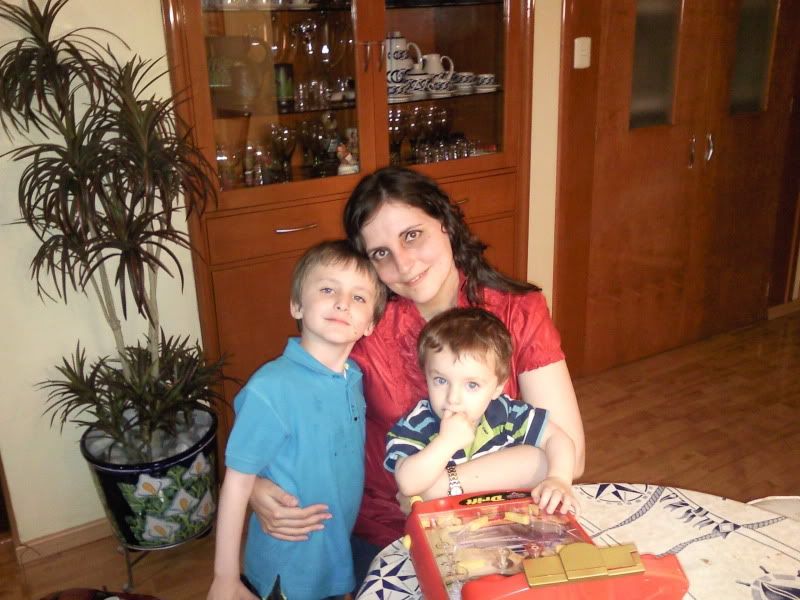 I love Mafalda I know it is in Spanish but I found this one with translation and thought that it was perfect for what we are living all around the world.
#???, Mafalda 10 (1974)
Man: "Changing the world! Ha! Kids' stuff!"
Man: "I, too, had such ideas when I was young, and now you see..."
Mafalda: "We're doomed, guys! It turns out, if we don't hurry up and change the world, the world changes us!"
As Mafalda says we can only hope to change the world before it change us.
Have a wonderful day!